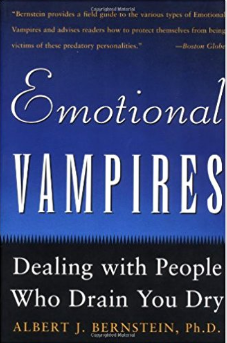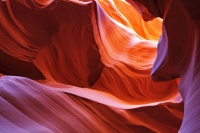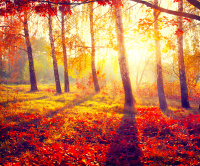 Emotional Vampires
Dealing with People Who Drain You Dry
by Albert J. Bernstein, Ph.D.
"I'm Not Good Enough"...and other Lies Women Tell Themselves

Pain Free - A Revolutionary Method For Stopping Chronic Pain

I've always had problems with certain personality types, but it wasn't until I had severe problems with a co-worker, that I realized why.  In his book, Dr. Bernstein walks you through all of the difficult "Vampire" personality types, and then gives you a way to deal with them.  Types of vampires include the Antisocial Types, the Histrionic Types, Narcissistic Types, Obsessive Compulsive Types, and the Paranoid Types.  Basically, he talks about how to reconize an Emotional Vampire, and them arms you with defense strategies to protect yourself.  Now, of course he's not talking about an actual Vampire. Barnabas Collins would be far easier to spot than an emotional vampire.  I found out that my biggest problems come from the Histrionic type Vampires, who are also the drama queens of the world.  For some reason they can spot me from a mile off, and then I fall for their stories and get dragged into the drama, never realizing that I'm falling for something that has been made up in their mind.  Thanks to Dr. Bernstein, I'm now better able to recognize what's going on, and find a way to distance myself from it.  This is a very good read.
Sharon Jaynes asks "Are you ready to see yourself as God sees you?" If you're struggling with your self image and not feeling so good about yourself, this is the book for you.  I know that I have a hard time with this. Being a highly sensitive introvert, I always aim to please.  And yet, I never seem to feel that I've managed to do enough.  This book faces all the lies that the enemy tells us, such as "I'm Not Good Enough", "I'm Worthless", "I'm a Failure", and "I'm Not Good Enough to Be a Christian".  This book walks  you through the solution to dealing with these lies once and for all.  I actually read this book over a year ago, and then suggested it to my Life Group as a Study.  Everyone thought that it was very helpful to them in recognizing Satan's lies, and finding a way to replace them with the truth. 

I got this bood to try and treat chronic back pain that I'd already been to a Chiropractor, a Physical Therapist, and an Orthopaedic doctor for.  There is a lot of reading in this book, and a lot of it makes sense.  Read the first three chapters and then you can find the chapter that talks about your particular pain and what exercises that you should do to help it. Information on back pain is in chapter 8, so that's the chapter that I spent the most time in. There are quite a few exercises to do as your physical therapy.  I did them religiously for weeks and they did start to help me.  But for some reason after doing them for a month longer, they stopped helping my pain.  The Ecogscue method has a good reputation, and the exercises were sound, so I have no idea of why they stopped working for me.  But I'm off to try and find another way.